The website MillionaireMatch.com is over a decade old, and advertises itself as a venue for attractive, successful single people to meet others like them. There are over five hundred thousand members, and the site's membership increases by hundreds every day.
Interface
The site has an appropriately minimalist, businesslike web page design and is easy to navigate. Many clients listed on such websites work long hours, and find online dating more convenient than using more traditional social avenues to find potential partners.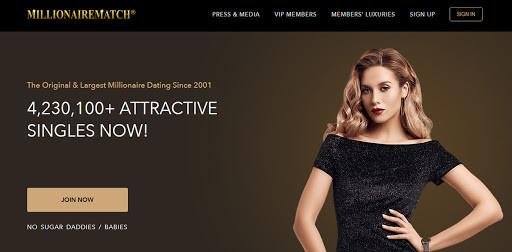 Millionaire Profiles
The site defines 'millionaires' by yearly income: people who make one hundred fifty thousand dollars per year or more are millionaires. All of the website's members have access to all of the website's available profiles, and can find the profile with the highest degree of compatibility with their own. Members are either millionaires or admirers of millionaires, and it is unnecessary to be a millionaire to become a member. For security purposes, members use screen names instead of their legal names, and it is up to users whether or not to release their e-mail addresses.
Other Features
www.millionairematch.com has a blog and forum available for additional information. The website has counsellors who will answer clients' various questions and concerns.
The blog page is where members can pour their hearts out, writing about various topics covering relationships, dating, marriage and sex, as well as fluffy write ups about companionship, compatibility, greetings, date tips and anything dating-related. As a member you can create your own blog — there are even those who post ads on there, which is a bit ingenious indeed.
As for social features, they are basic and they work just fine. A member can use IM (instant messaging), send/receive email, and send winks which lets you pick a one-liner from a list. If that kind of flirtation isn't for you, you can send your very own lines through email, but you have to be a paying member in order to do that. In here, man can't live on winks alone. However, winking can be done as many times as possible and both free and paid subscribers can send unlimited winks for as long as they want.
Members are also allowed to collect profiles to favorite, which is quite a useful feature for when the selection of profiles becomes too overwhelming. When you keep a favorite list, you can easily go back to profiles you favored without having to do some extensive search again.
For members who prefer specific types of partners, advanced search can be done to reduce . Some of the parameters that can be used include zip code, age, and gender. Searching can be narrowed down to physical characteristics, lifestyle practices, and relationship desires.
Fees
Millionairematch.com charges members thirty dollars per month on average. With gold memberships, users can get six months of membership for twenty-four dollars per month, three months at thirty dollars per month and one month at a dollar fifty per day. Users with gold membership rates get savings of sixty, fifty and twenty percent, respectively. Users can report problems and ask questions by writing a letter to the site's mailing address, but registered members can submit suggestions, complaints and success stories online instantly. These are reviewed, and receive responses within twenty-four hours.
Gold members have the privilege of uploading private photos which he has the freedom to share to whomever he pleases. Standard members could ask permission to view private photos but they are not allowed to upload their own. Another terrific advantage for Gold members is being a verified or a featured member which basically means they get to be on top of searches which ultimately spells (or at least it should) great success in finding the perfect match, or at the very least, a variety of profiles to choose from.
Dating Advice & Tips
MillionaireMatch.com is an increasingly well known dating website that sets itself apart from a plethora of dating websites in its mission and the execution of that mission.
Top Alternatives to Millionaire Match
This is your short-cut to the best sites:
Wealthymen.com
Date A Millionaire
Sugar Daddie
Established Men
Sugar Daddy Meet
Company Information
Name:
MillionaireMatch.com
Address:
10 – 8707 Dufferin St, Suite 160
Vaughan, Ontario L4J 0A6
Canada